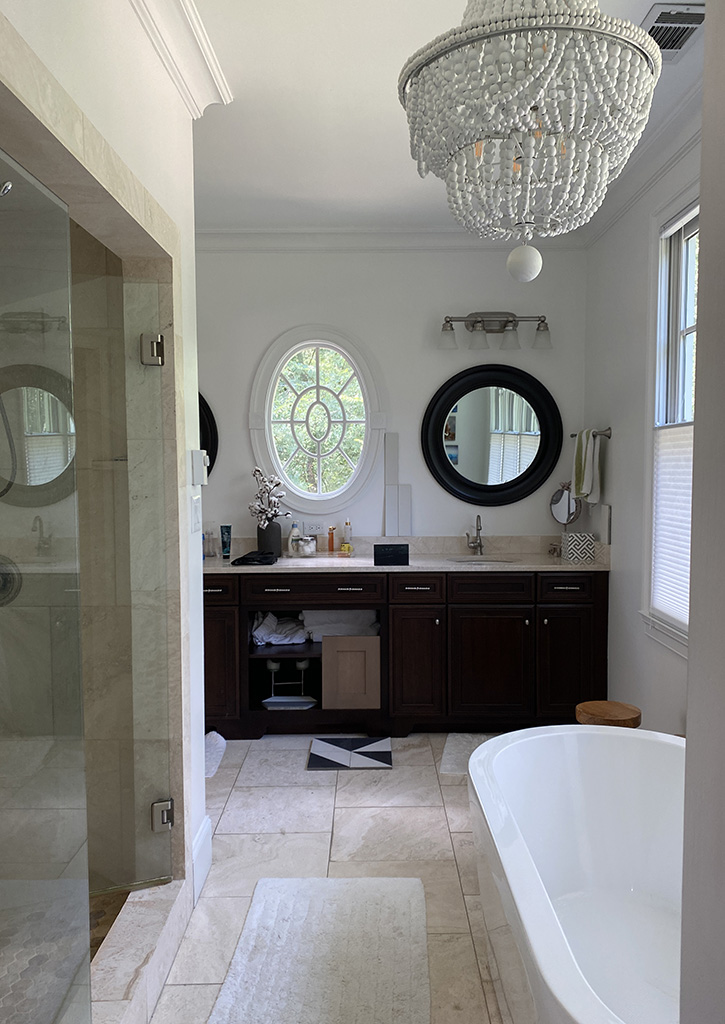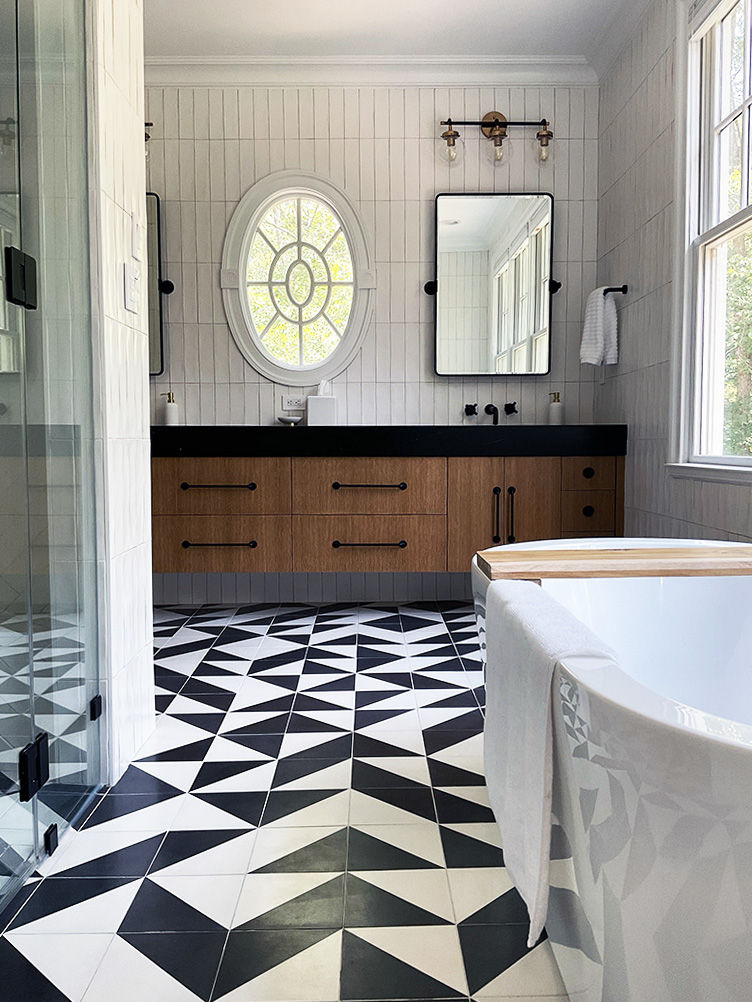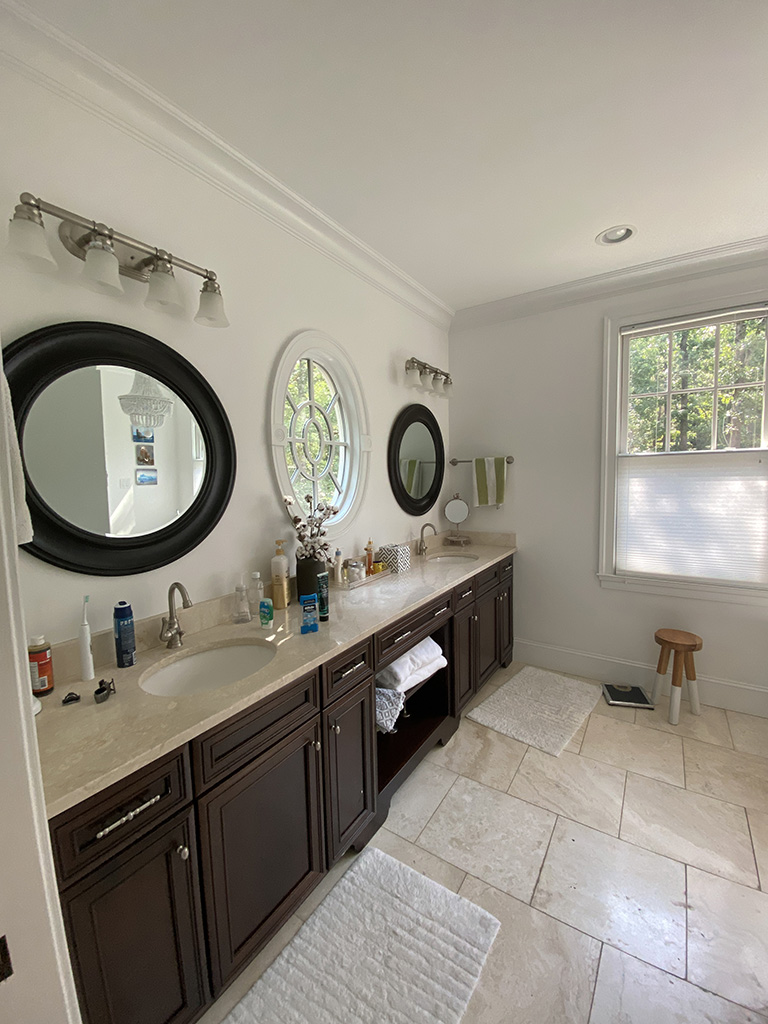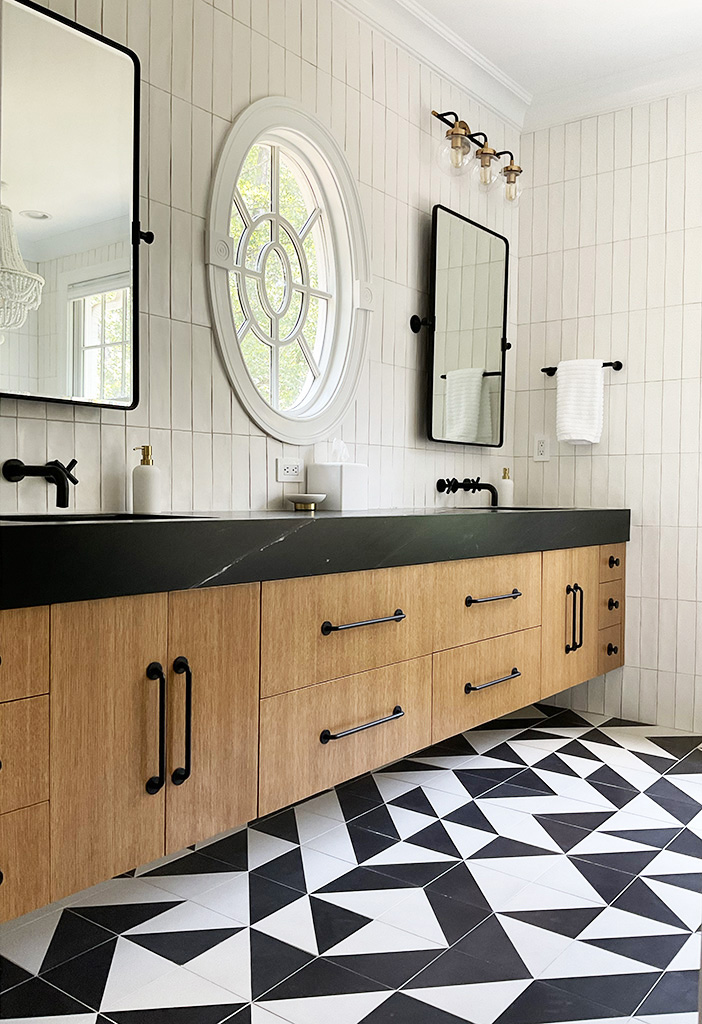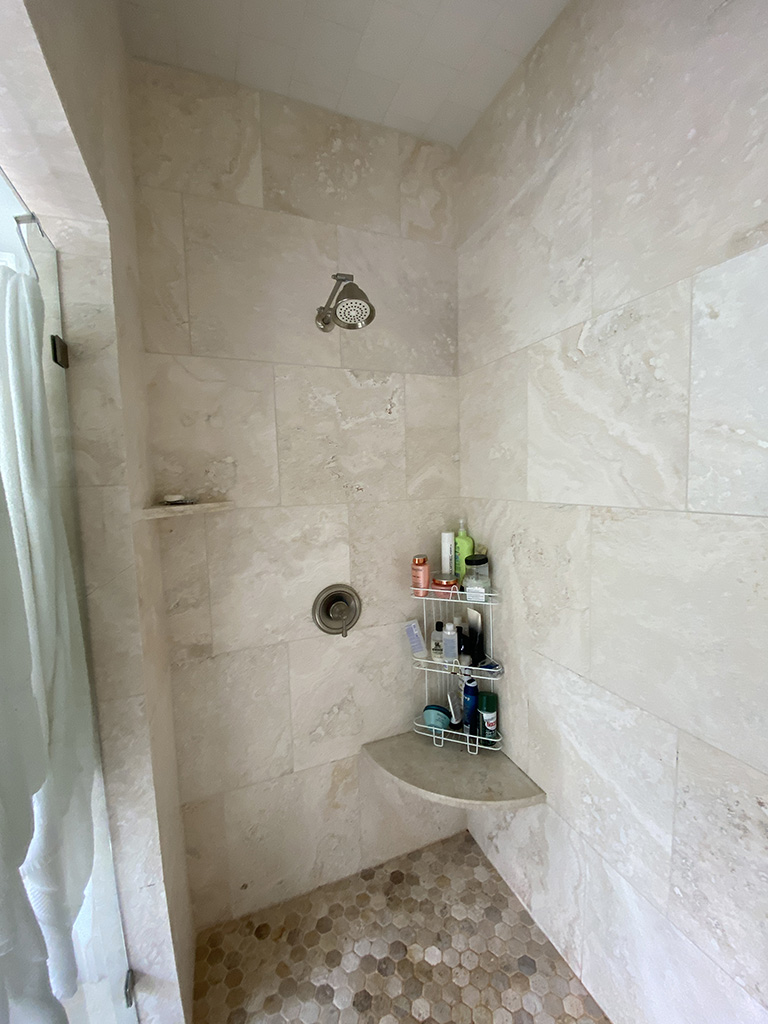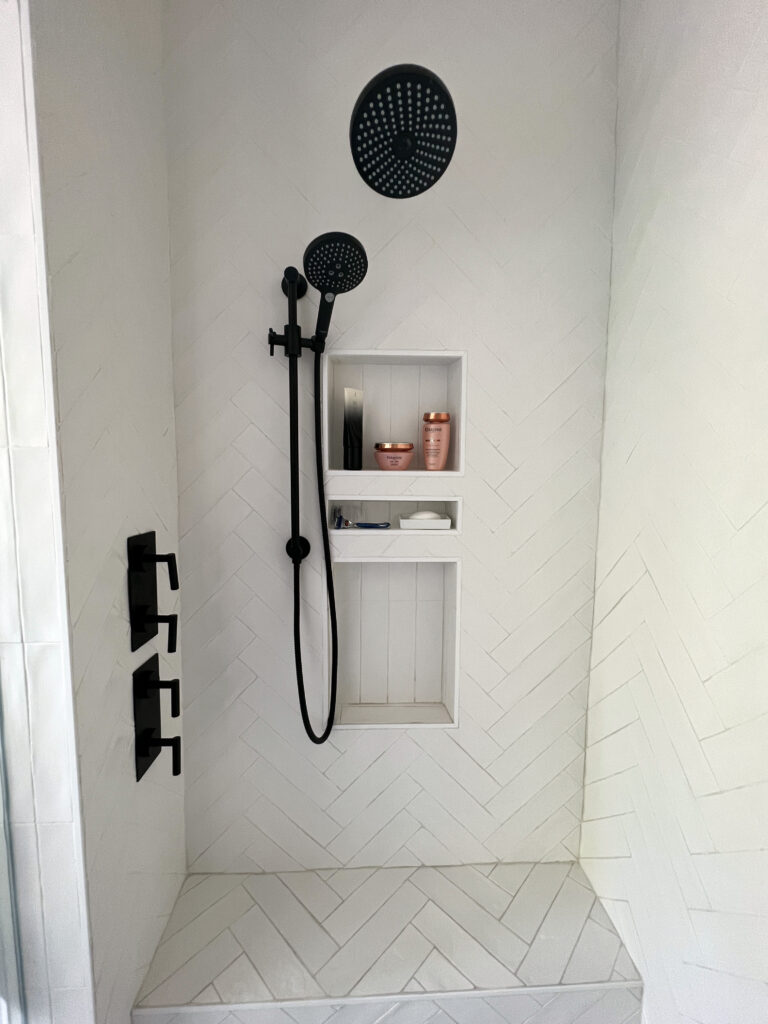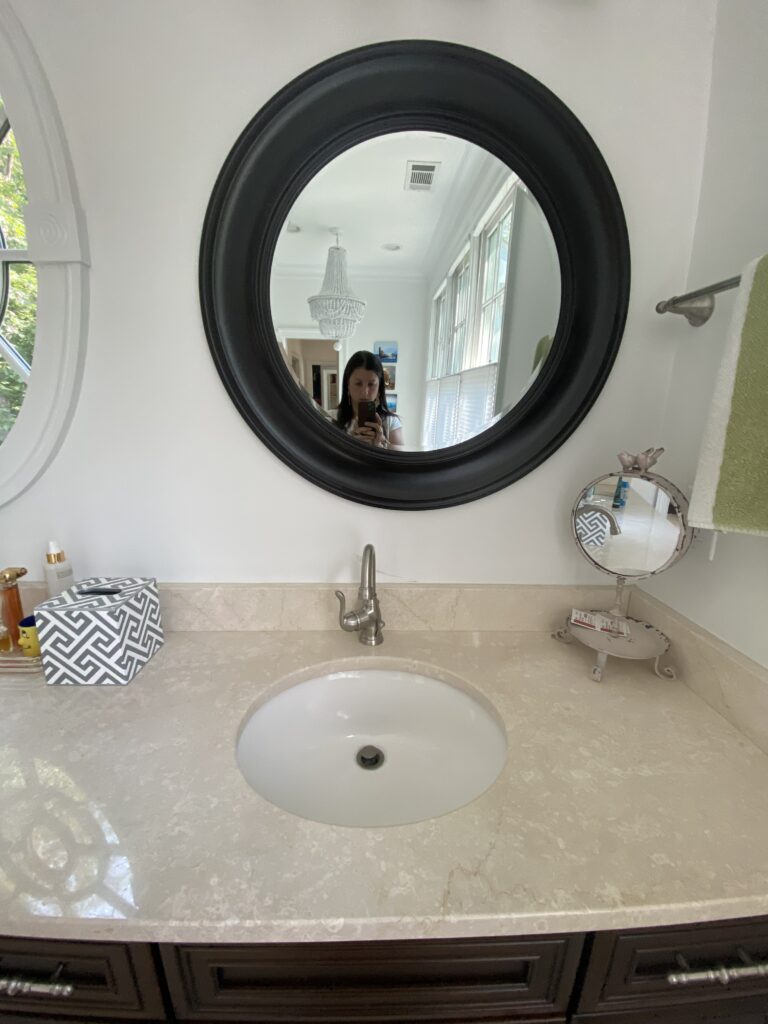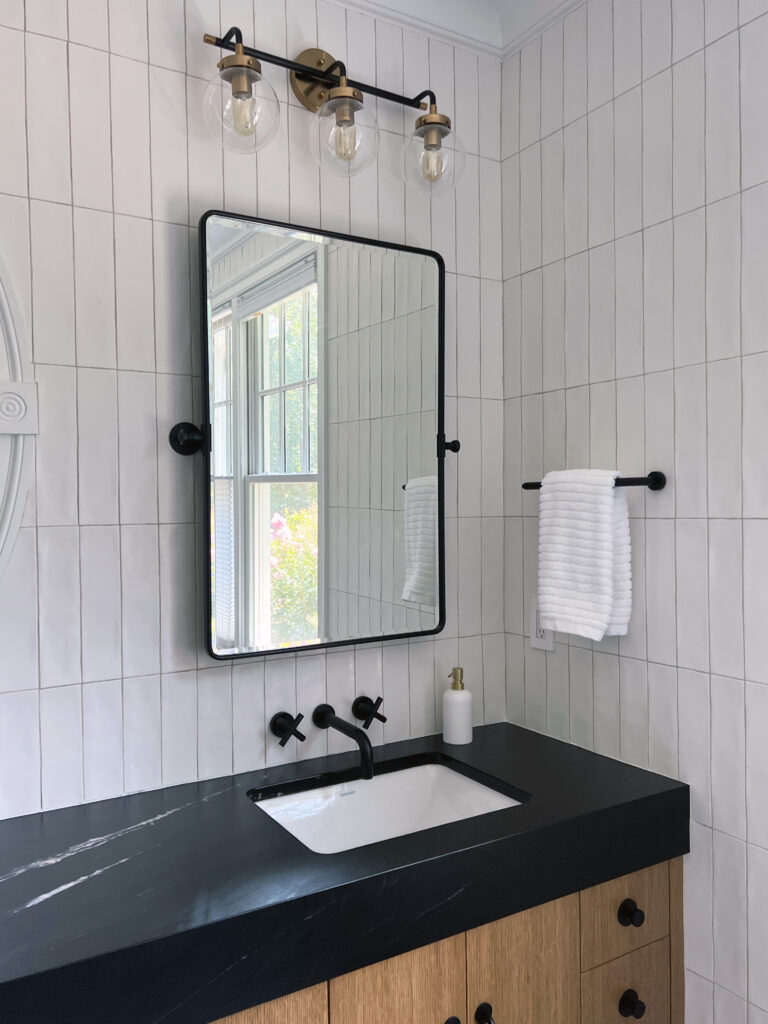 Project Details
PROJECT TYPE
SCOPE OF WORK
The mission was to take this bathroom out of the 2000s with all of the beige travertine tile and create a fresh, modern farmhouse feel that celebrated high-contrast design.  While we wanted a modern design approach with clean, stacked tile but we were sure also include rounded and soft angles and touches that were handmade so the bathroom still fit within the farmhouse-style home.
We took a bold, crisp approach to the floor with a simple half black, half white concrete tile that was rotated, seemingly at random, to create an unpredictable floor pattern.  We continued this same tile into the shower which now has a zero entry approach and an elegant tile-over drain.  The decision on the concrete flooring drove the finish decisions for the rest of the bath, from the tile to the countertops.  Because the floor tiles have a matte, natural finish, the 3 x 12 wall tiles were selected in a matte finish with an undulating surface and the soapstone with its natural satin finish was the perfect compliment.
While not customary, all the walls in this bathroom were tiled.  Outside the shower, the 3 x 12 irregular tile is tiles were arranged in a vertical stacked pattern with a slightly contrasting grout to draw attention to the geometry and in the shower, the same tile is laid in a herringbone pattern which matching white grout.
The new shower is equipped with a total of four heads and new benches for sitting or shaving.  A 14″ rain shower head is in the middle of the shower with can/fan lights overhead and a set of speakers.
The vanity is a custom masterpiece of quarter sawn white oak, crafted so that all of the grain runs vertically and matches as it moves across the surface.  With the 10′ length of the vanity offering plenty of storage, we took an opportunity to float it off the floor allowing the floor design to continue under it to the wall.  Floating vanities can help spaces appear larger and they offer a chance to illuminate the floor under the vanity at night for way finding to the bathroom without getting light in your eyes.  To cap off this vanity, we added an elegant apron-front countertop out of charcoal black soapstone.  This natural stone has stunning pink, white and gold flecks running through it and we were able to continue the veining down the front apron.  We aged the stone with finishers and wax to deepen it to a black color.
Images ©Allison Sloan Polish.