Flagstone Entertaining Courtyard
Click on photos to view larger in light box setting.
Before & After Slider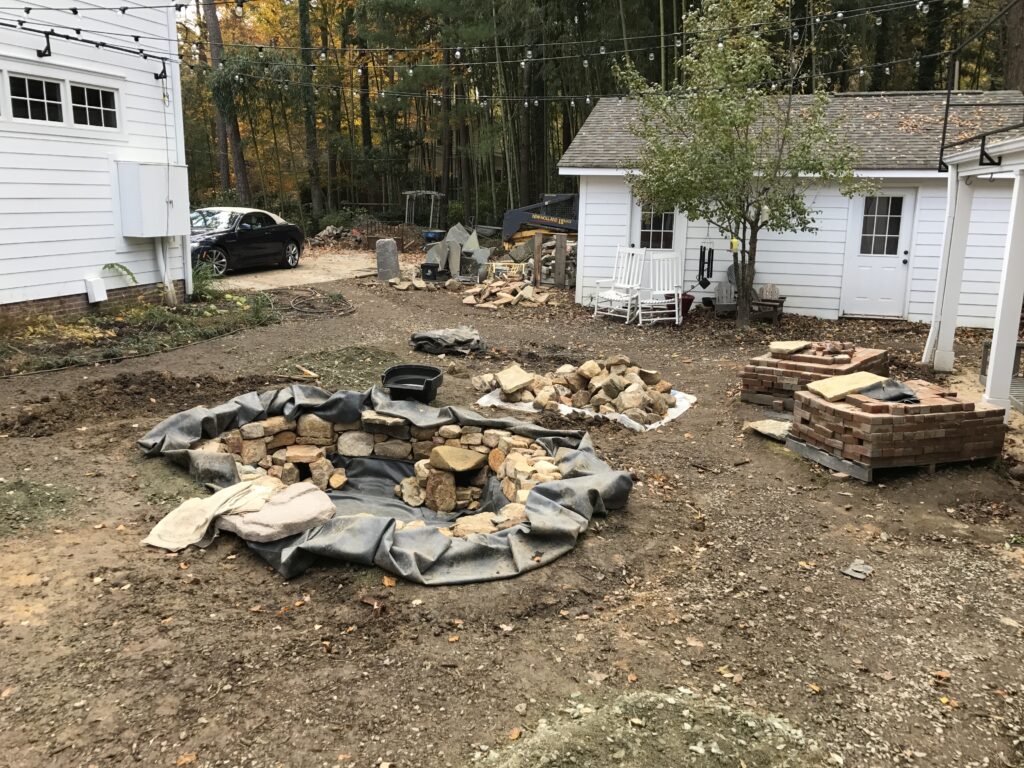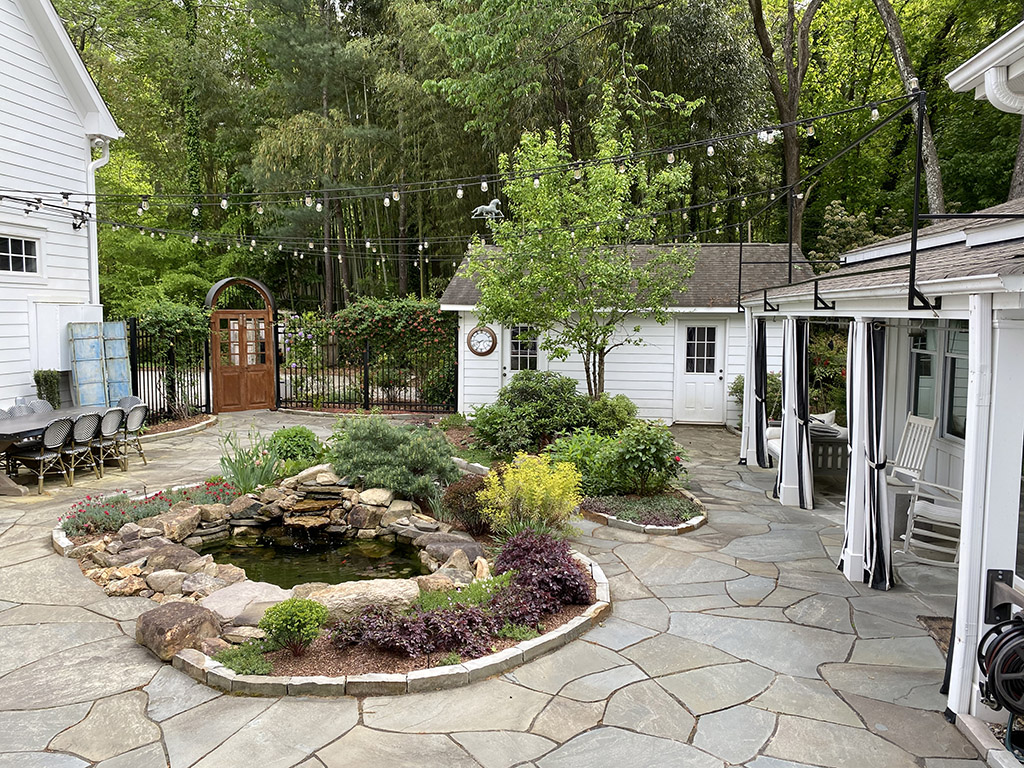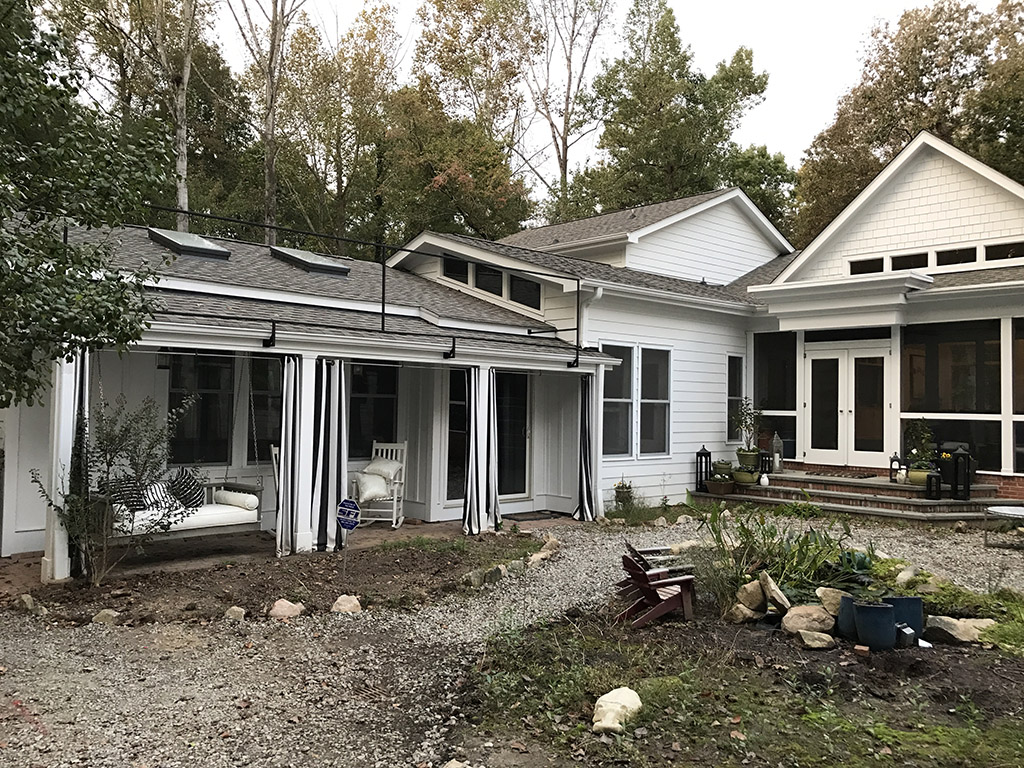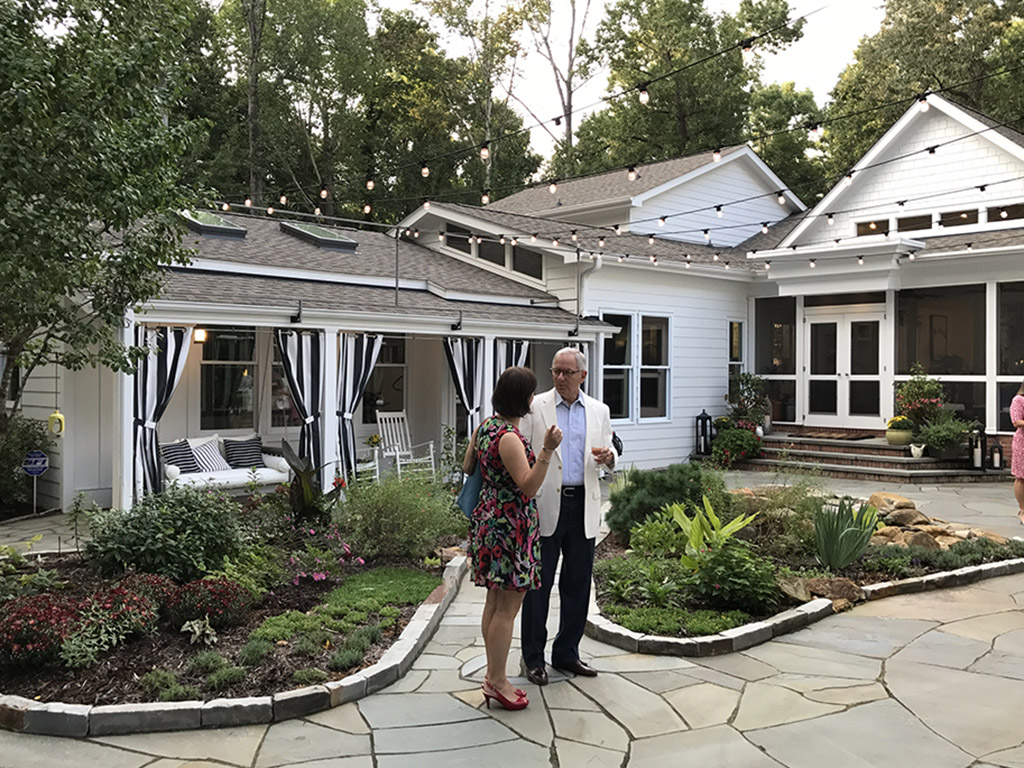 Project Details
PROJECT TYPE
SCOPE OF WORK
This courtyard was the classic case of huge potential not yet realized. In order to fix some drainage issues and create a flexible yet intimate space for entertaining, we took everything down to the bare dirt and started over.
With landscape architect Jean Bernard of Petal Stone and installation expert Vinnie Soden of Greenway Landscapes, we reimagined the space with blue-gray Pennsylvania flagstone and strip rubble. Instead of planting beds around the perimeter of the courtyard, we created two large, organically shaped beds in the middle of the space with a three-foot wide meandering pathway in between. By centralizing the planted areas, we were able to reclaim the covered porch area for a daybed swing and rocking chairs. The existing rubber-lined pond was rebuilt a bit larger, lined with stone, and installed with a waterfall feature. To illuminate the space at night and add to the outdoor room vibe, we worked with carpenter/welder Mike Delude to add black steel framing along two sides of the house to suspend the commercial-grade, LED string lights.
The lounging area can seat ten around its 60″ wide gas fire pit adorned with natural looking gas logs. The fire pit was designed with a bluestone top wide enough to double as a coffee table and hold food. The teak trestle table with black concrete top and black and white bistro chairs make al fresco dining for 10 a breeze.
One of my favorite components of this space is the teak, arched double doors that serve as the entrance. These doors, over 150 years old and salvaged from India, originally came with glass in the panes which we removed before installation. When closed, these doors act like a window into the garden, helping to create privacy and separation from the driveway beyond.
Croasdaile Durham Custom Build
sloanpolish
2023-11-02T01:38:32+00:00